WHAT OUR
Puppy Parents Say
Jesse S.
We had a great easy experience!!! We found the perfect new member to the Shuler family!!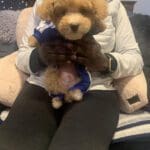 Alexis C.
I got my Miniature Poodle from Charlotte Dog Club in November 2020 and he is one of the best things that has ever happened to my family. He was healthy and he is full of energy. The process was flawless. They kept in contact with me the entire time during the flight phase. They also checked on me and Mister up to a week after. I would highly recommend them.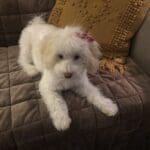 Cynthia R.
Olivia came to us mid October at 11 weeks old. She has grown so much and is a joyful bundle of energy ! At 5 Months now she weighs 12.5 lbs and has gotten taller .. she just had her first puppy cut in this pic. We think she is so smart and beautiful ! She sleeps all night and is doing really well with potty training .. just a few mistakes now and then. Thank you Charlotte Dog Club! Our vet was very complimentary of her breeding and care !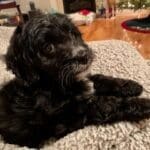 Jessica W.
I picked up Resse (Nicole) my mini bernadoodle on 1/31/20 and the entire process was so organized and pleasant. The staff have all been so kind and helpful. They communicated with me before the pick up, sent me educational information and also have followed up several times after adoption day to make sure all of my questions were answered. I highly reccomend the snuggle puppy they offer at the time of adoption. I didn't order one originally but my pup loves it and sleeps on or next to it at night. The puppy is so sweet with a lovely personality and she is already learning new commands. They did a great job socializing her before the adoption and she does really well with other people and didn't seem bothered by New Year's Eve fireworks at all! The entire process has been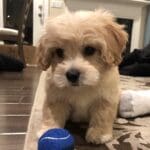 Debbie P.
Charlotte Dog Club was everything they promised. After searching for a Cavachon puppy for over a year we were lucky to finally adopt Murray (previously known as Hudson) on New Year's Eve. He is such a good boy and adapted to our family and home very quickly. I was impressed that the staff called many times to check in and see how he was doing. The puppy care package we purchased from CDC was extremely helpful providing us with food/medicine as he transitioned to our home.
Allyson Y.
I have so many great things to say about CDC! I stumbled upon their site as I've been regularly looking for my perfect dog. My husband is NOT a dog guy, and I knew if getting a pup would be a go, it must be near-perfect. I loved CDC's excellent website, and the sheer number of breeders they represent--so many different types of dogs to choose from, with outstanding background information on each one. They answered all my questions, understood what a big deal this event was for my family, and were patient and kind. I loved the actual facility; even though we could not go inside due to Covid, it was clean, well-kept, professional, and just looked of excellent quality. Jackie brought "Shawn" out to us so we could play with him and see if he would be a good fit. She was so kind and efficiently handled the paperwork while we played with the pup. She was professional and friendly, and it was a no-brainer to bring this sweet boy home. Shannon has called to follow up, and even remembered to see how my non-dog husband was doing! I've already referred one friend to the CDC, would be happy to answer any questions, and am truly thrilled with this outstanding adoption experience. Meet Mookie (formerly Shawn) who's adjusting beautifully; we're in puppy love!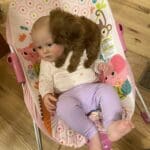 MARY L.
https://m.youtube.com/watch?v=RKEdrPMOXB8 I wish I had made this decision earlier. I have been so impressed with every aspect of the adoption process, from the facility, the caring staff, the thorough instructions of puppy care and the follow up. It is obvious that she was loved and well cared for as she has adjusted so well to sleeping in her crate at night and is very well socialized. I couldn't be happier with my new fur baby.
Brian K.
We loved all of the work with this business. It was real quick and easy to get in 2 weeks time to surprise my wife with a Christmas puppy! The new little girl we adopted Lola is a spunky little one that easily adjusted to our house and our other dog. So happy we chose them to do business with would recommend.
Pam T.
We brought home a bichapoo from Charlotte Dog Club New Year's Eve. We couldn't be more pleased with him. He already has brought so much joy to us. Can't wait to watch him grow.
Laurie M.
Love our newest member of the family! The Charlotte Dog Club are experts at making adoption the easiest ever!